Successful Branding with Custom Stickers and Decals in Guerilla Marketing
Stickers and decals are an affordable, easy way for any business to share information about their brand. If you are looking to save cost and increase advertising results a custom printed sticker or decal can be the perfect addition to your marketing plan.
Stickers and decals are an extremely versatile marketing tool. A creative, well-designed sticker can fulfill a variety of marketing objectives, including building branding awareness and loyalty or promoting a current advertising campaign. They can even be used to create publicity, quickly spreading an idea using guerilla and viral marketing techniques.
Many methods of mass media advertising require thousands of dollars for a single placement. Though not necessarily considered a mass medium, stickers and decals have the potential reach of mass media without the large expense. The savings are significant when taking into account the cost per unit in comparison to the potential number of people who can see your sticker over time. When considering this, stickers and decals are not only more cost efficient, but more effective - minimizing advertising expenditure while helping your branding message reach an expanded base of potential customers.
In addition to being cost effective, stickers and decals are also easy to use and versatile. In sticker marketing, creative design, placement and distribution are key to successfully expanding your customer base and increasing your potential sales volume. A creative decal or sticker design with creative placement is hard to beat. Quality stickers and decals will last an extended period of time and can be custom printed to adhere to almost anything. This versatility allows for eye-catching uses in a variety of applications.
In what is being dubbed "the world's first guerrilla public service announcement" , the "These Come From Trees" sticker and guerilla campaign is an experiment in environmentalism, with the goal of reducing consumer waste paper. The laminated stickers are strategically placed on paper towel dispensers encouraging restroom patrons to reduce their paper towel waste. According to project's field testing, each sticker deployed saves about a tree's worth of paper a year. There have been more than 50,000 stickers distributed since 2007, at hundreds of businesses including McDonalds' and Starbucks.
Stickers and decals have also been found extremely effective in company branding initiatives, helping to build brand awareness and increase brand loyalty. The widespread use and ability to be adhered to almost anything make stickers and decals an easy way to share your branding message with a large number of people.
This versatility and ease of use is unique to stickers, and is one of their most advantageous benefits. These benefits also make stickers and decals a primary technique in guerilla and viral marketing campaigns. Vinyl stickers were used in what is known as one of the most influential street art, viral marketing campaigns ever. The obey giant Has a Posse/ Andre the Giant sticker is based on a design created in 1989 by artist, Shepard Fair .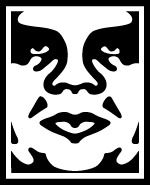 The image has graced over 650,000 stickers. First appearing in Rhode Island in 1989, the stickers are still seen in cities around the world, and these "sightings" can be submitted to the OBEY Giant website http://obeygiant.com/sightings. Fairey moved to the west coast, starting a design firm in San Diego. In an interview with Creative Review Magazine in July of 1997 Fairey says he, "still goes out putting up posters three times a month... but I always have stickers on me... just in case."http://obeygiant.com/articles/creative-review-magazine-july-1997
The versatility of stickers and decals allows not only for widespread use and distribution, but can be one of the most effective ways to reach your best potential customers. Many consumers will come to like a product or service so much that they will proudly display a logo sticker, by far the most effective endorsement a brand could ever receive.
One of the most effectively branded companies today successfully uses this strategy of sticker marketing. Apple has been giving away logo stickers with almost every product shipped since the late 1970s. Seeing a relatively inexpensive to increase brand loyalty in their customers, during the mid-1990s, Apple provided boxfuls of their rainbow logo stickers to anyone who asked. There are reports of the decal being stolen from a car http://www.wired.com/gadgets/mac/commentary/cultofmac/2002/10/55887?, a car almost completely covered in Apple stickers http://www.tuaw.com/2006/05/09/ok-who-owns-this-car/, and even PC users affixing the sticker to their laptops http://www.ozawa.org/jen/journal/981121.html. In fact it is almost guaranteed that proud new Mac owners will adhere the sticker to their car, computer, ipod, notebook, window or a number of other places. Over the years, the stickers continue to be a marketing success for Apple.
Clearly a useful marketing tool, stickers and decals allow for companies to quickly and easily share information about their brand. Proven affordable, versatile and effective, stickers and decals have been shown to build brand awareness and loyalty, successfully promote company campaigns and create publicity, spreading an idea using guerilla marketing techniques. As a result of their many benefits, stickers and decals are used widely for commercial advertising, company branding, political purposes, public education and much more. Companies of all sizes, in many different industries can successfully utilize stickers and decals to reach their marketing objectives.